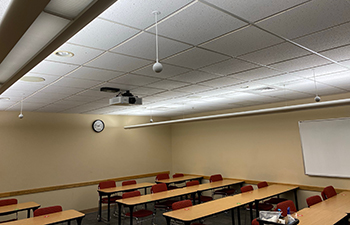 Most of the smart classrooms on campus are now equipped with cameras and microphones that support HyFlex delivery of classes.
Features of these classrooms:
HD camera has zoom, pan, and tilt to control shared video
Microphone(s) capture audio from the entire room
Fully compatible with Zoom and Panopto
No adapters or switching of cables required to use personal devices
Training videos:
Questions? Please contact OIT Academic Support.
---
Last updated July 26, 2022
Contact Us